News Alert : Robins Online store is now open - Click HERE
Overcome by Robin George and Glenn Hughes Release Date 24th November 2023 on Cherry Red Records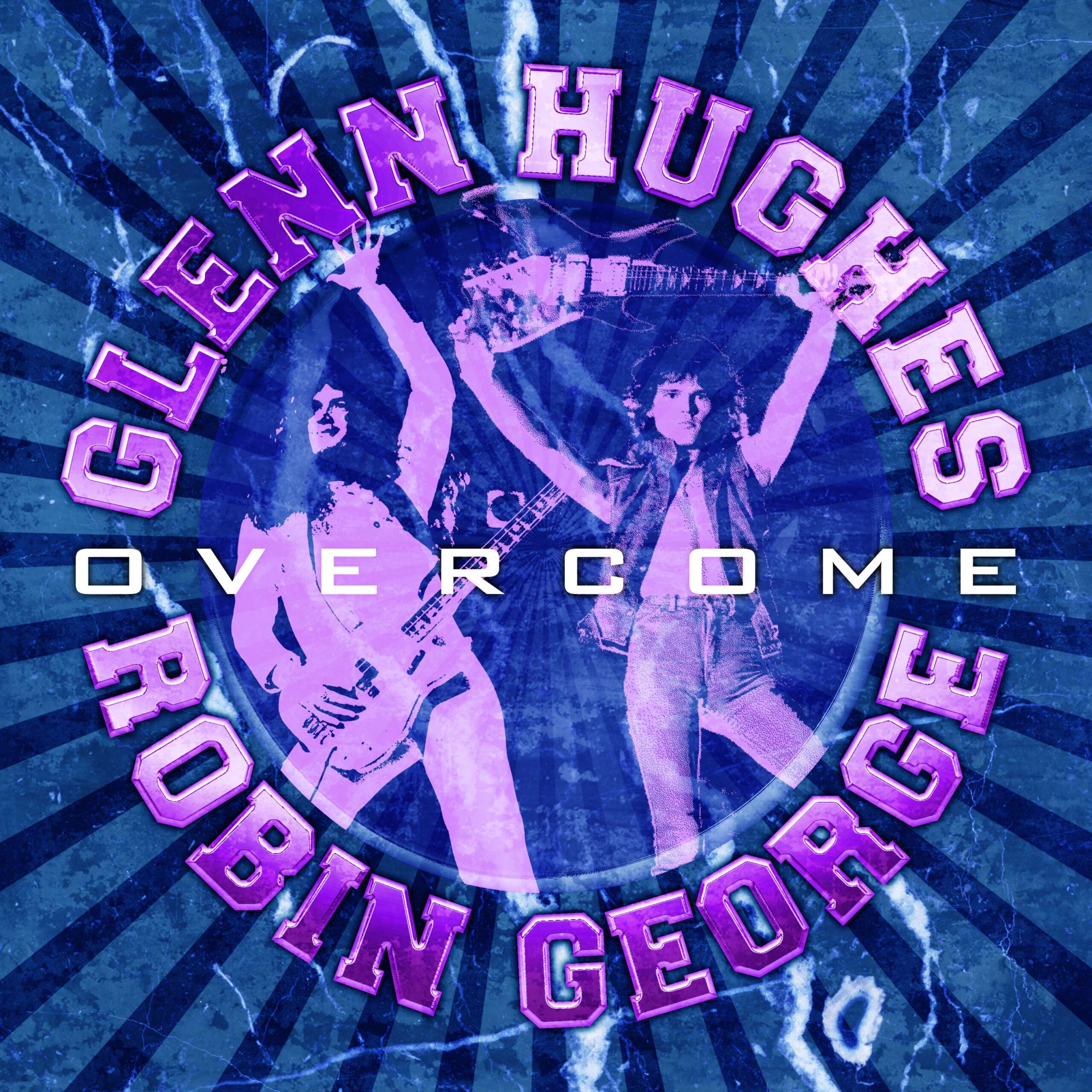 Glenn Hughes & Robin George – Overcome

Overcome is well-named.
Originally to be titled Sweet Revenge, this never officially released gem from Glenn Hughes and Robin George has a three decades old back-story that's as interesting as the album is excellent.

In the late 80s Glenn Hughes added some backing vocals to the Notorious album Radio Silence, featuring Robin George and ex Diamond Head singer Sean Harris (Radio Silence sadly suffered at the out-of-touch hands of record moguls until seeing a deserved release much later in life).
Impressed with what Robin George was coming up with, Hughes asked his fellow West Midlands musician what else he might have – suddenly George's next solo album was looking like it would feature The Voice Of Rock.
However what should have been a dream come true for Robin George became an unofficially released nightmare.

Initial recordings at Robin George's Kitchen Sink Studios in 1989 went exceptionally well, but when it came time to lay it all down at Ridge Farm studios the next year, for major label release, the results weren't so good.
Factor in the deal between the UK & US companies concerned ending acrimoniously, and you have the plug officially pulled on an album that promised so much but never delivered – nor did it deliver in 2008 when the album was bootlegged and released in not second rate but third rate, unmixed, low quality MP3 fashion.

Fifteen years on from that bootlegged embarrassment however, Robin George has given the original Kitchen Sink Studios recordings the restoration care and mixing attention they deserve (bolstered by a great remastering job from Klaus Bohlmann).

From the melodically framed rock charm of opener 'Flying' (one of a number of songs Robin George would revisit for later solo albums) to edgier and angular album closer 'War Dance' (which would have sat comfortably on George's Dangerous Music of the 80s), this is an album that has indeed Overcome the odds.

It's also an album that covers all the bases, or more accurately basses, as well and guitars, keys and drum machine parts, courtesy of Robin George (who also produced the album).

Aside from the Dangerous Music styled numbers – the aforementioned 'War Dance,' the T-Rex meets hard pop-rock of 'I Want' (featuring Daniel Boone on backing vocals), the melodic light and rockin' shade of 'Don't Come Crying' (which drops the phrase "dangerous music" into the chorus; Glenn Hughes belting out "I still hear Burn!" Is another nice touch) – there's the funkier, almost Philly soul rock of the title track (Glenn Hughes doing his best Stevie Wonder) and lovely, slow-dance ballad 'Haunted.'

The latter (one of two co-writes with Daniel Boone) is not the Kitchen Sink Studios version but a later session from Dangerous Music Studios in Bridgnorth; it also features Glenn Hughes' original Trapeze band-mates Mel Galley, Dave Holland and Terry Rowley.
Another from a later session is 'Loving You.' This version, recorded live as a stripped back acoustic & vocal performance, was recorded at Nomis Studio in London where final overdubs for the album were being done.
Elsewhere the hard-edged 'Number One' (one of four Hughes-George co-writes) allows The Voice of Rock to give it the full Glenn, while songs such as 'Sweet Revenge' and 'The American Way' rock the funk, and funk the rock, respectively.

The thirteen track album is completed by 'Machine' (one of the best songs Prince never did), the melodic pop of 'Steal My Heart' and 'Things Have Gotta Change,' an endearing piece of synth-strings soft-rock that no album featuring Robin George should be without (and seldom is).

Overcome is a long awaited win-win.
Not only is it an excellent album that showcases Glenn Hughes in fine voice (recorded between his then addictive issues) fronting some of Robin George's best material, it's also a case of Sweet Revenge on the bootleg betrayers.

Ross Muir
FabricationsHQ


Overcome will be released on Cherry Red Records' HNE label on 24th November.
Pre-order at: https://www.cherryred.co.uk/product/glenn-hughes-and-robin-george-overcome-cd/
Cherry Red Sales Sheet
Long lost collaboration by Glenn Hughes and Robin George, originally recorded in 1989.
A chance meeting between Glenn Hughes and Robin George eventually resulted in an invitation for Glenn to sing backing vocals for Robin and Sean Harris' Notorious album, which lead to a full collaboration between Robin and Glenn. The album started life as a solo Robin George record and developed into 'Overcome', complete with four songs co-written by the pair; 'Number One', 'Sweet Revenge', 'Don't Come Crying', and the title track.
Such was the faith and strength in the new recordings, that a major label deal was struck but fell through, leaving these recordings to languish in the vaults. Glenn is on fine form on the album, and among the 13 tracks of melodic, and occasionally funky, hard rock, one special treat is the track 'Haunted', essentially recorded by a reformed Trapeze, featuring Dave Holland, Mel Galley and Terry Rowley.
Glenn Hughes has quite rightly been hailed "The Voice Of Rock", and for good reason. With a career that kicked off with Mel Galley and Dave Holland in Trapeze in 1970, followed by Deep Purple between 1973 and 1976, Glenn would also form Hughes / Thrall, join Black Sabbath, enjoy a successful solo career, collaborate with artists as varied as Gary Moore, Joe Lynn Turner and the KLF, founding Black Country Communion and California Breed, and fronting The Dead Daisies.
Over the years, Robin George has collaborated with many musical legends, from Led Zeppelin's Robert Plant, Thin Lizzy's Philip Lynott, Uriah Heep's David Byron, UFO's Pete Way, John Wetton & Asia, Daniel Boone, Raymond Froggatt and the Quireboys' Spike.
As a native of Wolverhampton, it's no surprise that a musician of Robin George's calibre would cross paths with local heroes Trapeze.
TRACK LISTING
1 Flying
2 Overcome
3 I Want
4 Haunted (featuring Trapeze's Dave Holland, Mel Galley & Terry Rowley)
5 Number One
6 Sweet Revenge
7 The American Way
8 Machine
9 Steal My Heart
10 Things Have Gotta Change
11 Don't Come Crying
12 Loving You
13 War Dance
Robin George sings, and plays his trademark guitar and this album recorded during down time in Worcester's Old Smithy studio between 1979 and 1981.
Aided by various musical luminaries, including Dave Holland and Charlie Morgan (Elton John) on drums, Pino Palladino (The Who) and Pete Wright (Trapeze) on bass, Daniel Boone, Mark Stanway (Magnum) and Terry Rowley (Trapeze) on keyboards with Mel Collins (King Crimson, Bad Company) on sax.
2 CDs of classic, melodic rock, this release features many photos from Robin's personal archive and the set is completed by previously unpublished liner notes from the late Malcolm Dome, a much missed and well-respected music journalist who had been a great supporter of Robin's career for over 40 years.
'Ace In My Hand' kicks off a campaign of exciting titles from Robin George, who will be available for interviews and press to promote this release.

"Ace In My Hand' is not a nostalgia trip. It's a lesson in music for everyone." Malcolm Dome.

Over the years, Robin George has collaborated with many musical legends, from Thin Lizzy's Philip Lynott, Uriah Heep's David Byron, UFO's Pete Way, and The Quireboys' Spike to Deep Purple's Glenn Hughes. As a native of Wolverhampton, it's no surprise that a musician of his calibre would cross paths with local heroes Trapeze. Collaborating with Trapeze's Dave Holland on drums and vocalist Peter Goalby, a new look Trapeze was put on hold when Holland received an offer to join Judas Priest for a run of world-beating HM classics. Despite this, Robin had assembled a strong collection of material to draw upon for his solo debut 'History'. That album was followed by the hit single 'Heartline', a track that had a significant impact on both sides of the Atlantic, directly leading to Robin featuring on the cover of the important Kerrang! magazine, as well as being championed by highly influential rock DJs Tommy Vance and Alan 'Fluff' Freeman.

Click to buy https://www.cherryred.co.uk/product/robin-george-ace-in-my-hand-2cd/

Cool interview with Claire Frances Johnson for Reload Rock Radio. Quirky questions I had no idea she was gonna ask so fun for me too. Enjoy, my friends... | By Robin | Facebook
Robin George Integrity magazine interview
What I did during Rockdown my friends! x
| | |
| --- | --- |
| | |

For another side of Robin George, look and listen no further than Heartlines. A collection of stripped back numbers, Heartlines featuresRobin George in solo/ acoustic mode, with the additional textures of second acoustic or electric guitar and those trademark multi-layered backing & harmony vocals.
Opening with the Dangerous Music brace of 'Heartline' and 'Spy,' Robin George goes on to deliver another twelve acoustic (and electrically backed) numbers including rock and roll lullaby number 'Dark and Stormy', the alt-country blues of 'Moonlight Honey' and fun little looking back number, 'Early Daze.'

There's also room on Heartlines for a more delicate, acoustic mix of Phil Lynott's 'Kings Call,' which originally featured in more electric-folk guise on 2001 tribute album The Spirit of the Black Rose.
The only thing you need to have, or hear, from Robin George is the 12" of 'Heartline' and Dangerous Music?
Do me a favour.
Actually, do yourself a favour and acoustically engage with Heartlines.

Ross Muir
www.FabricationsHQ.com
Robin George – Feed the Wolf / Surreal Six String
Robin George may not have gotten all the plaudits or breaks he deserved across his career but the man who gave us Dangerous Music back in the 80s and later decades should certainly be garnering applause as the musician who made the most of lockdown (by some long, album issuing way).
Hot on the heels of earlier 2021 releases
Wilderness
and
Heartlines
come the dovetailing pairing of
Feed the Wolf
and
Surreal Six String
; the former is the latest full length studio album from Robin George while the latter is his first fully instrumental offering (much as
Heartlines
was his first all acoustic release).
That his distinct and individualistic Dangerous Music sound and style is still alive and well is evident from tracks such as opener 'Momma Sister Daughter' (Bolan vocality meets guitar-edged Robin George rock and roll), the muscly and, again, Bolan-esque (an oft-cited and valid comparison) title track and 'Savage Song,' a gritty, fast-paced number on which Mr George isn't exactly hanging about.
'Savage Song' also highlights a major Robin George trait, that of reinventing & rerecording some of his older songs to suit his current state of musical mind (some may recall 'Savage Song' as a highlight of
Damage Control,
a supergroup of sorts featuring George, raspy-throated Quireboys front man Spike, Chris Slade and the late Pete Way).
Other
Feed The Wolf
highlights include 'Funky Rock Groove' (which does exactly what it says on the tin), the bluesy sway of 'Love is Blind' (featuring some tasty guitar licks from Robin George), the edgy but melodic 'Castles in the Sky' (whose origins go back to the
History
of the Wolverhampton born musician) and the quirkier 'Painful Kiss,' originally from the album of the same name.
The album ends on the similarly quirky and very catchy 'Early Daze,' a looking-back and 'If I knew then' styled nod to more carefree and innocent times (a shorter acoustic version also sits on
Heartlines
).
Surreal Six String
is a collection of primarily reworked numbers from across Robin George's career and catalogue, instrumental-ised with the lyric-melody line played on guitar in effective and, on some of the tracks, quite expressive style.
Opener 'Go Down Fighting' was Robin George's first major single release in 1983 but here is based on his later rocked up version; it therefore works well as a feisty instrumental.
It's also nice to see a place for the atmospheric, tempo shifting instrumental 'Charlotte Starlight,' which goes back to the
History
album, and 'Love Power & Peace' (featuring Hammond fills from the late Ken Hensley and melodic guitar play from Robin George) from the all-star charity album of that name.
You'll also find instrumental versions of
Wolf
numbers 'Painful Kiss' and 'Love is Blind' as well as re-workings of the more rock and roll styled 'Dancing Shoes' (from the
Rogue Angels
album) and a shorter take of the blues swaggering 'Freedom,' from last year's
BitterSweet HeartBeat
album.
Other highlights include 'Brandy Bottle Blues' (another with a self-explanatory title), which features a couple of bars of blues blasting sax from Mel Collins, and album closer 'Oxygen.'
Originally a love song, 'Oxygen' works equally well as an expressive guitar workout in instrumental clothing.
So another brace of 2021 releases from a man who clearly wasn't twiddling thumbs during lockdown/s.
Further proof of that ever-busy schedule?
Robin George has also released a fully remastered version of the
Asia 2
Marquee gig from 1986 (of which he was an integral part), a Robin George & Dangerous Music
Euro Tour Live
CD, a
RoxStar Legends c
ompilation and a remastered retooling of the
Love Power & Peace
album as
Rocking LovePower.
He is now looking at reissuing some Damage Control music and achieving an official release for the album he recorded with Glenn Hughes in 1989 (previously issued under decidedly dodgy and awful audio quality circumstances).
No wonder he lives in Spain – he clearly needs, and deserves, the siestas.
Ross Muir
FabricationsHQ
Feed The Wolf
&
Surreal Six String
, along with all other aforementioned releases, can be purchased on CD direct from the artist's website:
http://www.robingeorge.co.uk/
Look out for FabricationsHQ's interview chat with Robin George at the end of November.